Till 1844 thee Brothers of our Holy Mary of Mercy remained in their first convent in the "Begijnenstreet" That year, they leave for the renovated convent at the "Melaan".
Sisters of our Lady of Mercy
Where the first cradle of the Brother congregation was built, V. Scheppers permitted the future sisters to live there.
About 1840 there was a charitable community of religious women in Mechelen who lived from education and from lace work. They were called "Derde-Ordelingen" of the holy Franciscus of Assisi.
From the year 1851 onwards, they form a convent community under the leadership of V. Scheppers, under the name of The Sisters of our Holy Mary of Mercy. In 1854 it was Cardinal Sterckx who approved their rule. Seventeen sisters received their convent cloth. Catharina Peréé becomes their first prior as Sister Mary.
The Lorette-school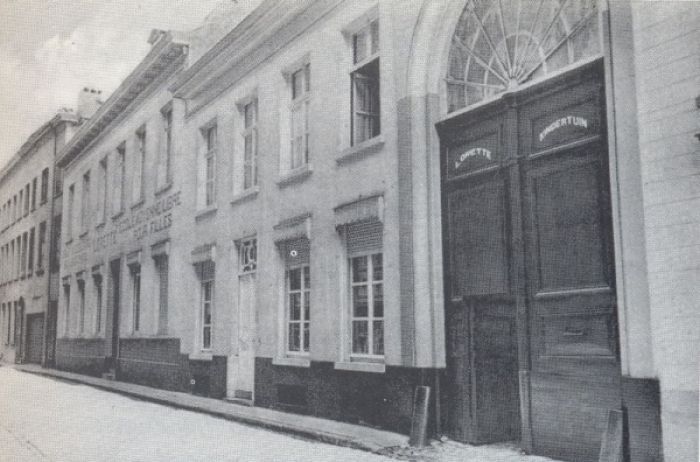 The convent in the "Begijnenstreet" was still considered as the mother house with novitiate. The primary school for girls opens in 1860 and becomes the Lorette-school with infant school as well as primary school and secondary school.
In the following years, they still built houses and they even built a home for elder women.
Apostolate
The charitable activities of the sisters were expanded with a first free infant school of the city of Mechelen in "the Garden of Busleyden and with a lace school for poor children from "the Begijnenhof". This was followed by a primary school in the parish of Hanswijk and a lace school in the "Pepperstreet". After a while the sisters in Mechelen run eight institutes.
In Halle, near Brussels, the sisters also keep open an orphans home and in Walem they rule a primary school. Later there also had a few homes in Diegem, Boortmeerbeek, Wambeek, Schaarbeek en Geel.
The end of the 20th century
An acknowledgment of the congregation by the Pope was never asked. At the end of the 20th century the sister congregation had to stop her activities.
On July 31th 1995 the last sisters left Mechelen and remained in an adapted convent home in O-L-V-Waver.